Contemporary twist on the classic belvedere or gazebo.
Pavilion View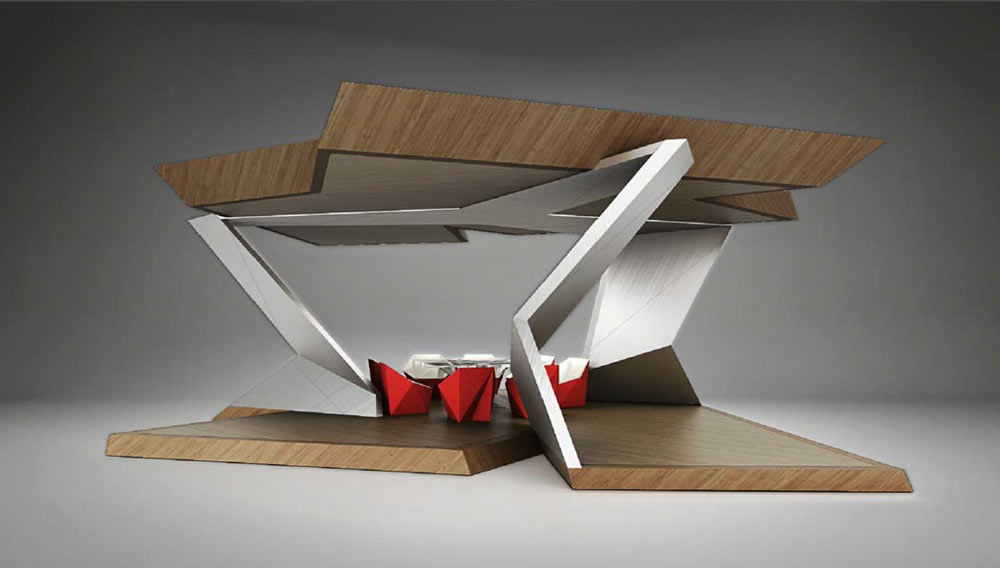 recreation PAVILION
When noted developer and art collector Robbie Antonio founded Revolution Precrafted, he aimed to offer affordable designs for prefab homes and structures without sacrificing high design. Assembling a first-rate team of world-class architects and designers, he commissioned them to design a series of prefabricated structures compatible with any location and context.
The Libeskinds' contribution is the Recreation Pavilion, designed as an ideal outdoor lounge and creative space. The structure offers a spectacular star-shaped podium covered by a 3D-printed roof, which can be customized in various textures and colors. In an ever increasing virtual world the Recreation Pavilion is a sustainable option to re-engage with in real life experiences.
The project was realized collaboratively with Robbie Antonio, Revolution Precrafted, Lev Libeskind, Daniel Libeskind, and their respective studios.
recreation pavilion
MADE FROM STAINLESS STEEL AND METAL
SCHEMATIC DRAWING
3D-PRINTED ROOF
Schematic Drawing
DISTINCTIVE FORM OF INTERSECTING PLANES CREATES A DRAMATIC SCULPTURE ELEMENT