ONE DAY IN LIFE
FRANKFURT, GERMANY
opernplatz, frankfurt
temporary installation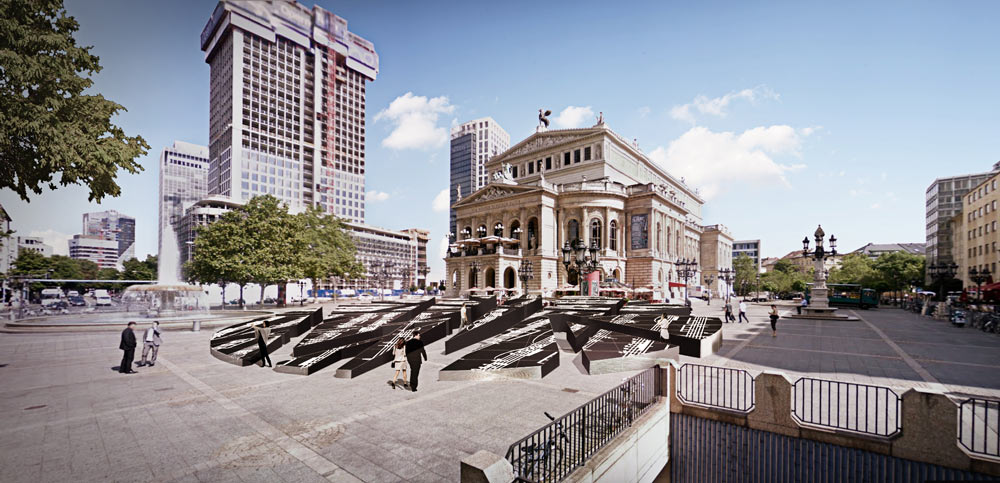 ONE DAY IN LIFE, FRANKFURT
One Day in Life was an ambitious undertaking spanning less than 24 hours and held in eighteen separate venues in Frankfurt. Commissioned by the Alte Oper Frankfurt, the event explored eighteen unique and essential conditions of life, including themes such as "Body," "Will," "Gravity," and "Memory." Altogether, the venues conducted more than 75 concert events and featured an enormous, temporary architectural installation called Musical Labyrinth in Frankfurt's main plaza. The Musical Labyrinth installation simulates a deep black landscape with etched white lines to conjure a labyrinth connecting each location throughout the city in different musical keys.
The performers included prestigious artists and ensembles, including the Sinfonieorchester (Frankfurt Radio Symphony), the Ensemble Modern, and students from Frankfurt am Main University of Music and Performing Arts, tackling works by musical masters such as Claudio Monteverdi, Wolfgang Amadeus Mozart, and Franz Schubert, as well as pieces by contemporary composers, and even Hindi raga and electronic music. 
In a world in which every musical genre has a festival of sorts, the diversity and breadth of One Day in Life is genuinely remarkable. A highly walkable, user-friendly event, attendees embarked on a one-day musical journey they're likely to never forget, with the installation Musical Labyrinth as a kind of visual metonymy at its center.  
The project was realized collaboratively with Lev Libeskind, Daniel Libeskind, and their respective studios.
a 24-hour musical experience
18 DIFFERENT VENUES across the city
Neighborhood Context
street level View


The Musical Labyrinth simulates a deep black landscape with etched white lines to imagine a labyrinth.