triology
STADIO DELLA ROMA, Rome, Italy
central towers
aerial View
building area
287,000 SQ.M.
triology, Stadio della Roma, Rome, italy
Inspired by the ancient Roman art of construction as well as traditional Italian piazza design, the Stadio della Roma master plan was designed to be the future home of A.S. Roma, a mainstay franchise in Italy's Serie A football league. Situated in the Tor di Valle neighborhood of Rome, the Stadio della Roma master plan was planned as the centerpiece of a local resurgence with an impressive complex that will feature shops, restaurants, bars, entertainment facilities, and Roma's training grounds – boasting the kind of multi-platform city hub that makes other clubs drool and enrage opposing hooligans.
The master plan lies between the light rail train station and the stadion on the Tiber river bank, with a grand piazza at its center hugged by three office towers based on drawings of Roman building blocks by Giambattista Piranesi and feature multi-level gardens. The master plan balances a business district on one side with an entertainment complex on the other, whose meandering pathways and smaller piazzas cater to both business executives and soccer fans.
The project was realized in collaboration with Lev Libeskind, Daniel Libeskind, and their respective studios.
central piazza
ground level View
shopping district
BIRD'S EYE VIEW
Retail Park
with 245 shops
pedestrian bridge to stadium
bird's eye View
central towers
aerial view
mater plan
bird's eye view
master plan
bird's eye View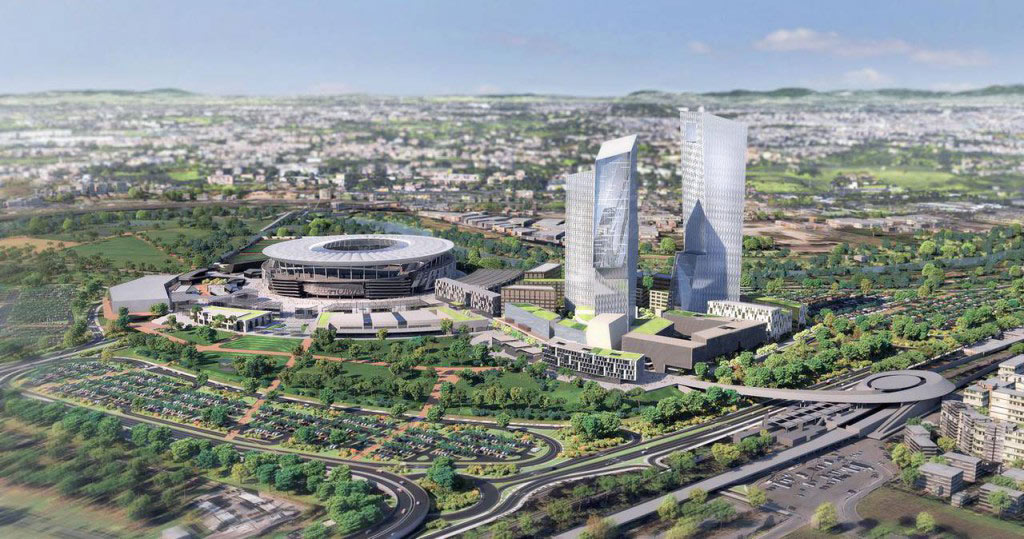 central towers
panoramic overview